How to Make Indoor Wall Planters with Sconces
Want to add some indoor plants to your home? Learn how to easily turn sconces into indoor wall planters!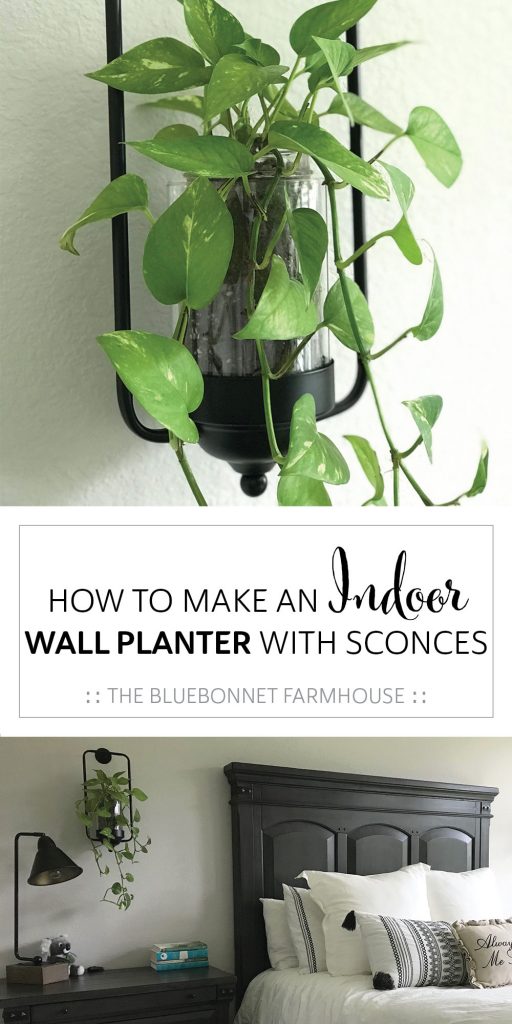 There I was, innocently standing in the store pickup line at Kirkland's when I fell for their trap – a strategically placed clearance corner right next to the store pickup line. Seriously, what is a woman to do while she waits?! I guess they figure this is their way of getting you to still shop in the store even when you try to avoid it with store pickup. I can say with the utmost certainty that Kirkland's knows what they are doing! Needless to say, I told myself "I'll just take a peak" … and that's how I walked out with a set of sconces for our bedroom.
Wondering why we chose to use live plants in our sconces rather than just the traditional candle? I had actually planned to use them as a typical wall sconce with candles when I purchased them, but the idea to use them as planters hit me as I was trying to incorporate more indoor plants in our home, especially in the bedrooms. In practicality, we never use candles and they aren't exactly a focal point just sitting there when unlit.
Now that we were out of the military, meaning no more extended leaves from home where plants would go without care, I was set on adding some indoor plants to our home. The reason? They are extremely healthy for you!
Plants improve your indoor air quality by absorbing harmful toxins that are being released into the air from your homes materials (paint, cabinets, carpet, etc) as well as from your home decor and furniture. By absorbing carbon dioxide and releasing oxygen, they can also help you sleep better at night! Plus they add so much life to a space and make me happy! There is something pleasing about looking at a thriving plant – a beautiful piece of nature – rather than another lifeless home decor item.
I wanted these wall sconce planters to go in our bedroom above both nightstands. This meant that one plant will be very close to the wall of windows and other plant will be on the opposite side of the room. We had to consider both locations and the amount of light for each when choosing the right indoor plants for the space. I knew I wanted something with vines to trail down, fill in the visual space on the wall, and cover the soil that would be visible through the glass. Knowing that Pothos can thrive in low light conditions and very low maintenance in general, this was our plant of choice! Considering I am a crazy plant lady with a brown thumb (it's sad, I know), I thought this would be the safest choice for us.
Once I had decided to turn the wall sconces into planters, I discovered the sconces ended up being just the right set for the job! We needed a way to be able to place the plants inside the sconce, remove them if necessary, and be able to water them without getting the sconce wet and potentially ruining the metal. Then after brainstorming and even considering a clear plastic Solo cup (yup, I'm ashamed to say I went there) it then dawned on me – hello, Mason Jars! If you read my post, THE BEST HEALTHY BABY BOTTLE + SIPPY CUP, then you already know how much I love and use mason jars! So what better way to use them then to find a new way to incorporate them in our house! The mason jars fit perfectly down inside the glass cylinders in addition to adding a slight amount of height to the overall piece. They were the solution to the problem and gave the planters some cute rustic character!
Obviously, the wall sconces were an impulse buy, but they ended up working out to be the perfect addition to our bedroom! Ready to learn how to turn your wall sconces into planters? Learn how through our tutorial below!
---
This post contains affiliate links. For more information, see my disclosures here.
SUPPLIES:
NOTE: Supplies listed below are to make two wall sconce planters.
Set of 2 Wall Sconces (We found ours on sale at Kirkland's)
(2) 32oz Wide Mouth Mason Jars
(2) 4" Cork Mats
(2) Indoor Plants (We chose to use Pothos as explained above)
Organic Potting Mix
River Rocks
Gardening Gloves
Wall Anchors (if no stud)
Stud Finder + Drill + Level
---
STEP 01 – PLANTING
Time for some planting! You will need the mason jars, river rocks, potting mix, and plants. To avoid root rot of indoor plants, you need to place several river rocks inside the bottom of the mason jar to prevent the roots from potentially drowning. Always be mindful to carefully water indoor plants and do not overwater.
TIP: The Dollar Tree has 32oz bags of small Black River Rocks for only $1! We had a bag of these left over from some VBS crafting projects and decided to use them. The black rocks blend in nicely with the soil and the black metal of our sconces.
Next, remove the plants from their plastic pots, loosen the roots and soil with your hands, and place them inside the mason jars with some fresh potting mix. Water your freshly planted Pothos (or plant of choice) and grab your drill because next up is hanging the sconces!
STEP 02 – ASSEMBLY
After you determine the location of where you want the sconces to hang, grab the stud finder and locate any studs in the area. Conveniently, there were studs located in the exact spots we wanted each of our wall sconces. Therefore, we were able to drive two of the three screws required for hanging each sconce into a stud and did not need to use any wall anchors. Depending on the weight of your plant and sconce, I would recommend using wall anchors if no stud is available. Check to make sure the sconces are level, mark the screw holes with a pencil on the wall to ensure they remain in the correct spot, and drive the screws into the wall.
Once the sconces are hung, place the cork mats in the bottom of the sconce where the plant is going to reside. The cork mats are there as a precaution in case any water droplets were to accidentally get down there during watering. The glass cylinders on our sconces have a 4in diameter and the cork mats fit perfectly. Use the appropriate size needed for your particular sconces.
Place your potted plant inside the sconce and enjoy your new beautiful indoor wall planters!
Ironically the Pothos on my side of the bed, which is the furthest from the window, is the one growing like crazy! The image on the left shows it after cutting – it was previously laying on the nightstand. Confirmation they can thrive in low light.
---
Curious to know what books are on the nightstand? Here is my current reading list that I am loving!!
Christy Miller Series – This is my absolute favorite book series! I am currently re-reading this series before reading the newest additions!
And the most important, my Bible.
---
RELATED POSTS:
Happy Planting!