THE BEST HEALTHY BABY BOTTLE AND SIPPY CUP
Looking for healthy and natural feeding supplies for your baby or toddler? Find out our favorite products for the baby years, toddler years, and beyond!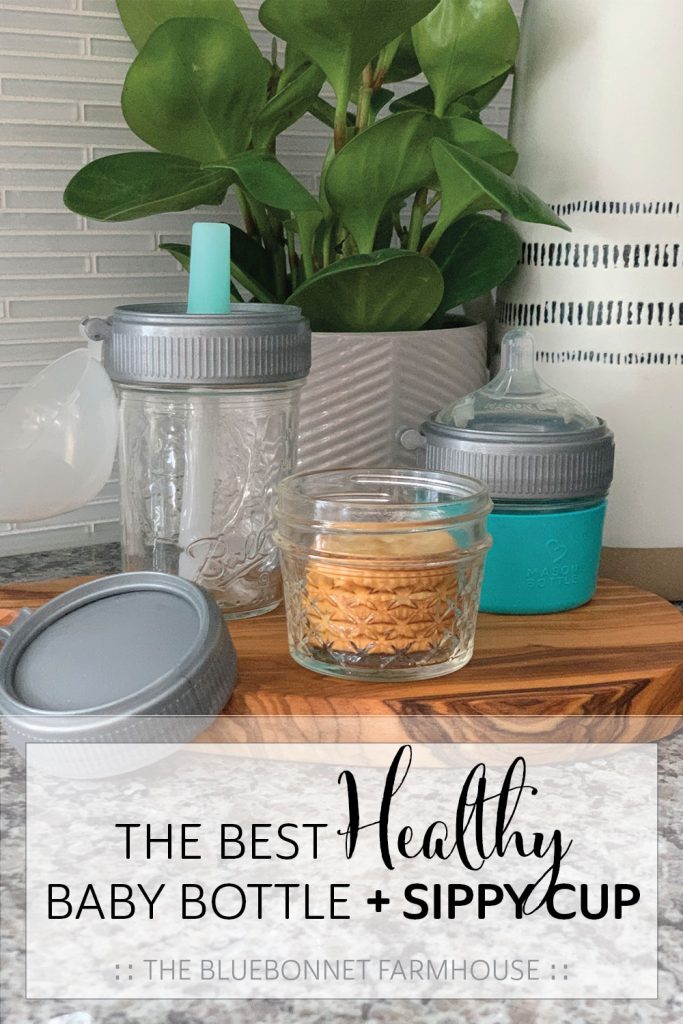 ---
This post contains affiliate links used to help support The Bluebonnet Farmhouse. For more information, please see my disclosures here.
---
I would like to note that although we are affiliates with Mason Bottle, this is not a sponsored post and we did not receive any free products. We personally use Mason Bottle products and simply wanted to share why we love Mason Bottle so much!
---
During our struggle with both breastfeeding and colic, I stumbled upon Mason Bottle while looking for a non-toxic, healthy glass baby bottle. I knew I did not want plastic baby bottles due to the health concerns, especially when warming the bottles… but when we found out our newborn son was not nursing efficiently we needed bottles FAST! So we ran to the Navy Exchange and purchased – you guessed it – some plastic baby bottles. Later, we found the perfect glass baby bottle, made the switch, and have never looked back!
I must admit, I was concerned when looking at the prices of most glass baby bottles as majority of them were a bit pricey. It was difficult to swallow the price considering how many you need, they were only good for use as a baby bottle, and are made of glass that can obviously break. I surely didn't want to think about the expense of replacing those bottles either. Then I found Mason Bottle and everything changed!
I have always loved mason jars for their versatility and we even use the 16oz Wide Mouth Mason Jars as our drinkware at home – an idea we got from a friend for cute and inexpensive glassware! As you can imagine, I was very excited when I found a company that was founded on how to use mason jars for baby bottles! Since the companies beginning, they have continued to grow and offer even more ways to use mason jars for infants and toddlers! Among baby bottles, they now offer sippy straw cups, snack containers, silicone bottles and pouches, breast milk storage, and silicone sleeves.
Sure, you can find DIY options on Pinterest for how to make a mason jar baby bottle using other brands of nipples, but those nipples are not made specifically for mason jars. Meaning they could leak, do not have a compatible lid to prevent any spills in the diaper bag, do not have a rust-free mason ring option, etc.
Continue reading for the various reasons why we chose to use Mason Bottle! Oh, by the way, there is a surprise at the bottom of this post you won't want to miss!
HEALTHY MATERIALS
As I mentioned earlier, the way I found Mason Bottle was while searching for a healthier bottle option – glass. Mason Bottle uses glass mason jars, silicone, and minimal plastic. Although they do use some plastic, this is the part I found amazing, the only plastic used is in areas where there is NO contact with the contents of the jar! The only materials liquid or food is coming in contact with are glass and silicone – the healthy materials! This means Mason Bottle is naturally BPA, BPS, and phalate free! My mind was blown by this ingenuity.
BREAST-LIKE NIPPLE
Many baby bottles are designed with tiny nipples. How does this make any sense when it in no way resembles the overall shape or size of a breast? The natural breast-like shape of Mason Bottle Silicone Nipples are wide and easy for baby to latch onto. Our son did not experience any nipple confusion with these bottles due to the nipples closely resembling the shape of a breast. He was never fussy with these nipples and took to them immediately! These nipples made switching between breastfeeding and bottle feeding super easy!
LEAK-PROOF + ANTI-COLIC
Mason Bottle's FussFree Ventilation System allows air into the bottle through dual ventilation valves on the nipple. The result is no pesky air bubbles that cause colic or gas. Plus, their integrative design means no leaking and no extra parts to clean!
ZERO WASTED MILK
Have you ever spilled breastmilk while trying to pour it from a storage bag into a bottle? Unfortunately, we have experienced this and when breastfeeding is already a struggle, wasting any amount of breastmilk can be very upsetting. With Mason Bottle, you no longer have to worry about spilled milk! You can pump, store, heat, and feed breastmilk all in the same mason jar without wasting a drop of liquid gold! Using just one jar allows you to save time, money, breastmilk, and potential tears by not having to transfer milk between pumping, storage, and feeding. You can read more about how to pump directly into a mason jar here.
EASY TO CLEAN
I LOVE the fact you can place the glass jars in the bottom of the dishwasher! Between how many bottles you can go through in one day and all of the baby items that are top rack safe only – the top rack can fill up quickly. Therefore, it is so nice to be able to throw the jars in the bottom of the dishwasher and clean more in one cycle! Not to mention, they rinse clean without milk sticking to the glass, there are no gaps or lips in the jar where milk can get caught, and you can easily fit your hand inside the jar to wipe clean – no fancy bottle brush needed!
MADE IN THE USA
Being a patriotic family and all, we love to support and purchase items made in the USA! All of Mason Bottles products are made in the USA to ensure product purity and safety along with supporting fair wages and local business. In addition, Ball Mason Jars are made in the USA with embossed glass rather than painted glass that could contain lead. Not to mention, they are made of extremely durable glass and can survive numerous drops – we can attest to that! Seriously though, even if your mason jar were to break after repeated drops, it costs around $1 to replace it! SO much better than paying to replace an actual glass baby bottle!
MULTI-PURPOSE + REUSABLE
Unlike other glass baby bottles whose only use is for bottle feeding, you can continue to use your Mason Bottle products and mason jars for years to come! From bottle feeding and breastmilk storage to sippy cups and toddler snacks, Mason Bottle is multi-purpose and reusable for even beyond the baby years! Mason Bottle products are compatible with all regular mouth mason jars. This means you can use various size regular mouth jars for different purposes such as:
Something I personally love are the Plastic Ring + Caps! Since the rings are plastic, they will not rust like the metal rings on a mason jar, and the caps keep the tops clean for both baby bottles and sippy cups! For the occasional instance of fine dining in the car, I take the lid off and use it as a bowl for our toddler. This way we can use a fork and knife to cut up chicken and place it in the lid rather than handing him individual pieces with our potentially germy on-the-go hands. He gets to be a big boy eating on his own, and we get to enjoy eating without having to hand him a piece of food every ten seconds – it's a win-win!
From baby bottles to sippy cups, Mason Bottle has you covered. Mason Bottle's Sippy Straw Top can be used as a sippy spout for little ones and a straw top as they get older! Simply attach the silicone straw to the underside of the silicone sippy spout and you are good to go – and NO leaking!! The design of the sippy spout allows for a straw top design that does not leak AND your little one cannot pull the straw out! A HUGE bonus when it comes to toddlers! Our son loves his Sippy Straw Top so much, we found him snuggling with it the first night we had it sitting next to his bed. He has never before grabbed his water cup at night that we know of until now! He will even pose for pictures taking a sip and responding with an exaggerated "ah". We can wholeheartedly say he loves and approves the Sippy Straw Tops!
For the most cost efficient route, you can simply pair Mason Bottle Silicone Nipples with 4 oz or 8 oz mason jars and use the metal rings that come with the mason jars. Optional accessories would include the Cap for Metal Rings and the Silicone Sleeve.
---
Once you are through the baby and toddler years, your kids can continue to use their Mason Bottle products for straw top drinkware at home or school and snack containers in their lunchbox! You can also use the mason jars by themselves as cups for the kiddos at home, creative crafts, or use the original lids for canning your own jelly! Mason Bottle certainly allows for you to get the most bang for your buck seeing as how there are so many uses for the jars and accessories!
Aside from their insanely versatile accessories, they are just too stinkin' cute!! I mean really, what is cuter than a little tike drinking from a mason jar?! You have no idea how many friends, family, and others LOVED our sons bottles and flipped out over the fact it was a mason jar! I was asked, "Is that a mason jar?!" more times than I can count and everyone wanted to know where I found them!
We love supporting family owned businesses and Mason Bottle is one of them! You can browse their website here to see all they have to offer. You can also find the surprise mentioned earlier below!
---

As an affiliate partner with Mason Bottle, we are able to offer a coupon code for 15% OFF of your purchase. Simply use the code THEBLUEBONNETFARMHOUSE at checkout.
---
Thanks for following along! Happy Feeding!