THRIFTY KITCHEN APRON HOOKS
Get more use out of your kitchen aprons with this thrifty hack. Use items you already have to make them easily accessible in your kitchen.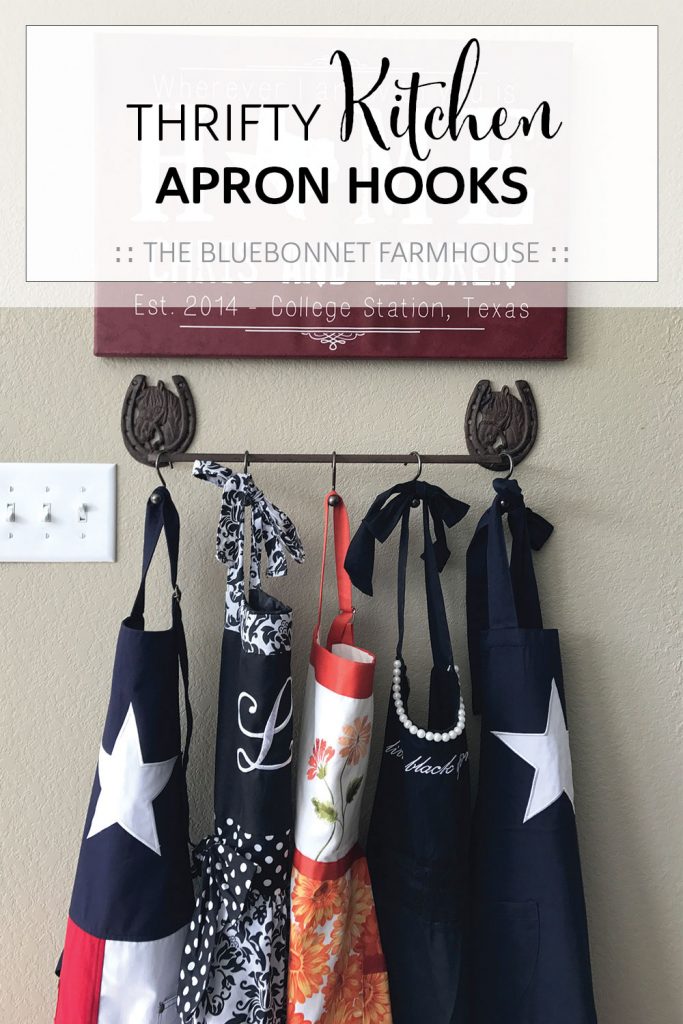 ---
This post contains affiliate links used to help support The Bluebonnet Farmhouse. For more information, please see my disclosures here.
---
A couple of years ago I was out shopping with my mom when I found this horseshoe towel rack. Of course I had to buy it given my dreams of one day owning a horse and all! It makes perfect sense right?
Between college and the Navy, I have been living in rentals and as you can figure all come equipped with towel racks. Therefore, my amazing horseshoe towel rack sat wrapped up in paper in the closet until one day I would have a home where I could use it.
After my husband and I got transferred to our current duty station, I was determined to figure out how I could put my towel rack to use when I unpacked it from the moving boxes. I bought the thing because I loved it; therefore, I wanted to use it.
Of course it took me a while to figure out what alternative use a towel rack could serve until one day it hit me!
A little back story here.
As we were unpacking and hanging things up, I stared at a blank wall in our kitchen wondering what on earth to do with it because it had THIS….. cue horror music
That's right folks, a telephone jack AT EYE LEVEL for a wall mounted phone (or at least that's what we think it is). Do they even make phones like that anymore??
Why base housing installed this in a home only seven years old is beyond me. And of course the jack is in the worst location possible – smack dab in the middle of the wall – but I digress.
My solution to hiding the phone jack was with a canvas picture my parents gave us as a wedding gift. It was a magical moment seeing the beauty of canvas wall art cover up the ever so dreaded phone jack. No one ever has to know that jack exists… minus the fact I am announcing its existence with this post.
Our canvas was looking pretty lonely on the wall by itself and I was unpacking kitchen boxes when I stumbled across my aprons.
Our aprons have always been neatly folded and stored in a kitchen drawer in hopes of being used; nevertheless I manage to forget they are there. So instead of my aprons taking up valuable kitchen drawer space and never being used, I realized I had found the purpose for my towel rack!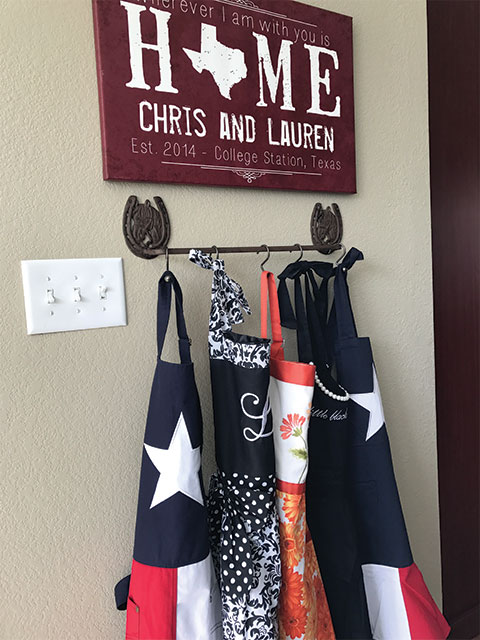 Knowing the aprons would ultimately not get used if it was a hassle to get them on and off the rack, I needed a quick and easy way to hang them. My solution – shower curtain hooks!
As a result of our many moves, we had some extra shower curtain hooks sitting in the linen closet not being used. They were certainly not doing us any good just sitting there and the color of them worked well enough to go with the towel rack, thus a decision was made!
The hooks have a ball at the end of them to hold up the aprons, but other styles of shower curtain hooks will work too. If you have small children who might knock the aprons off onto the floor, then I would recommend using a ring or "S" style hook.
Our kitchen apron display has led us to wear our aprons now more than we ever have in the last few years. It is a great way to save valuable drawer space as well as a fun way to add functionality and decor into your kitchen!
Loving the Texas flag aprons? You can find them here: His + Hers
FIND MORE THRIFTY TUTORIALS:
Thank you for reading the very detailed story of our one kitchen wall!