RUSTIC FARMHOUSE DECOR WITH BUDGET DECORATING TIPS
Rustic farmhouse decor with tips for how to decorate on a budget and choose versatile furniture pieces that can move with you.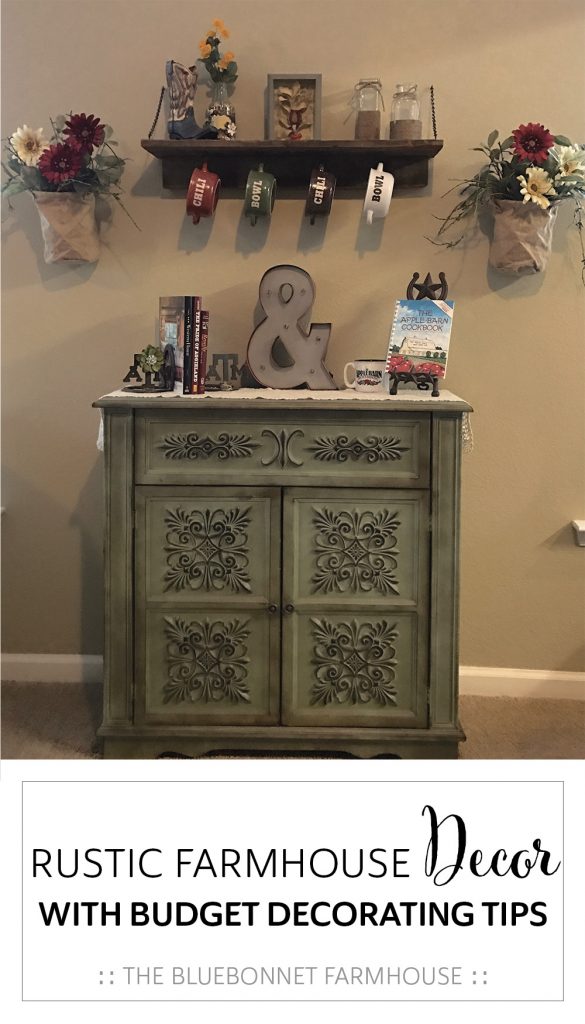 ---
This post contains affiliate links used to help support The Bluebonnet Farmhouse. For more information, please see my disclosures here.
---
We recently rearranged our living room area which in turn lead to us redoing our fireplace mantel. Before we did any rearranging; however, this was our original setup for what was the dining room portion of the area.
We do not have a grand china cabinet, but I felt this cabinet could work as a rustic, yet elegant substitute for housing serving ware, table linens, candles, etc.
As a side note, I apologize for the not-so-fantastic picture quality; military base housing is not known for its spectacular lighting. Okay, so base housing is not all to blame…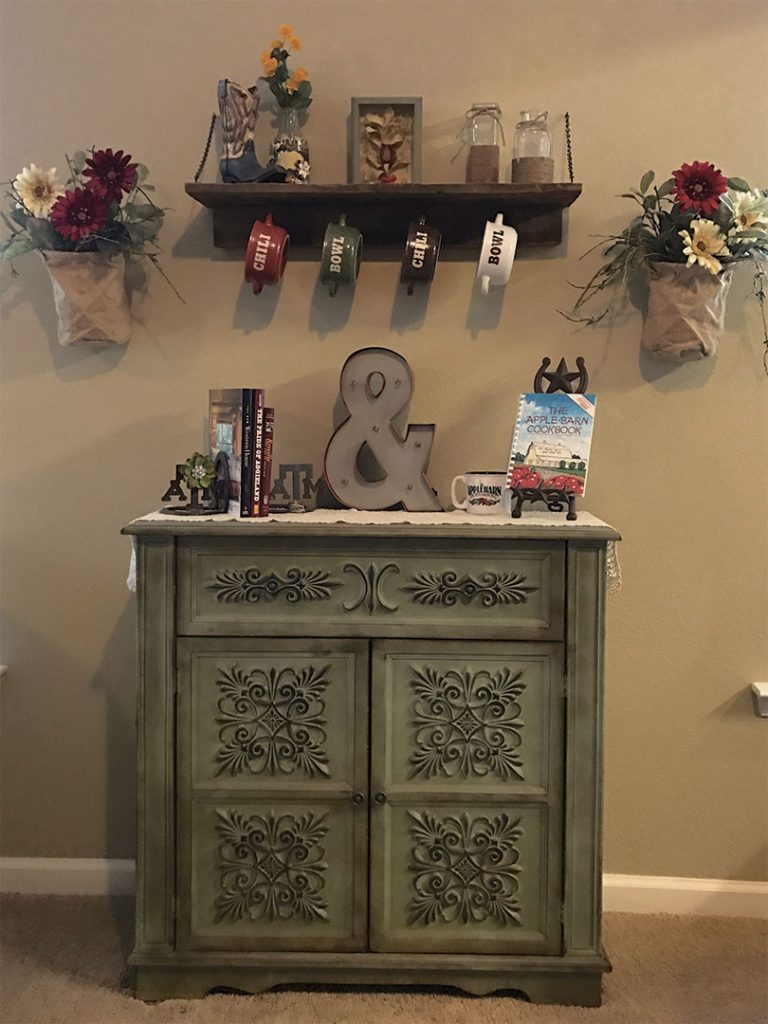 HOW TO FIND VERSATILE FURNITURE PIECES:
Anyone who lives in a rental home or apartment knows that storage space is key. This cabinet was actually a piece I purchased when living in the definition of a "zero storage space" one-bedroom apartment.
When apartment hunting, I somehow did not notice the massive lack of storage space… that is until I moved in. I actually had to purchase four new pieces of furniture in order to have a place to put everything.
Food had to be stowed away in the very few kitchen cabinets, which left the dishes to be stored elsewhere – cue my newly dubbed buffet cabinet. Once everything had a home, it was the perfect sized apartment for me… until my husband moved in. There was no hope for a storage solution after that.
One of the things I love about this particular piece of furniture is its versatility. A china cabinet is exactly how it sounds, a cabinet for fine china. It is most likely a very large piece of furniture and located in the dining room. However, this buffet cabinet is really just a cabinet that can be used for anything and in any room making it a great choice for those who move often.
Another perk is the reduced size of this cabinet versus a china cabinet. This allows for greater versatility in where the piece will fit in each given room or new home.
When trying to select and purchase versatile furniture pieces I look for these features: storage, size, and style.
STORAGE
Does the piece have useful storage space or is it really only for decor items? I always go for the storage feature because when moving with the military I never know what our storage space will be like in the next home.
SIZE
How big is the piece? If the piece is a massive structure that needs a large solid wall to house it, odds are I may not always find a spot for it in future homes. If the piece is too small it is essentially not very functional – at least not for storage. I try to go for moderately sized pieces and have never had trouble finding walls to place them against in each new home.
STYLE
What is the overall style of the piece? This one is easy, I go for pieces that I love and are compatible with the rest of your home decor. Neutral is always best here because it can transition with changes in decor, color scheme, etc. Mine is not exactly neutral being that it's green, but it went great with the rest of our decor so I chose to go out on a limb with this one!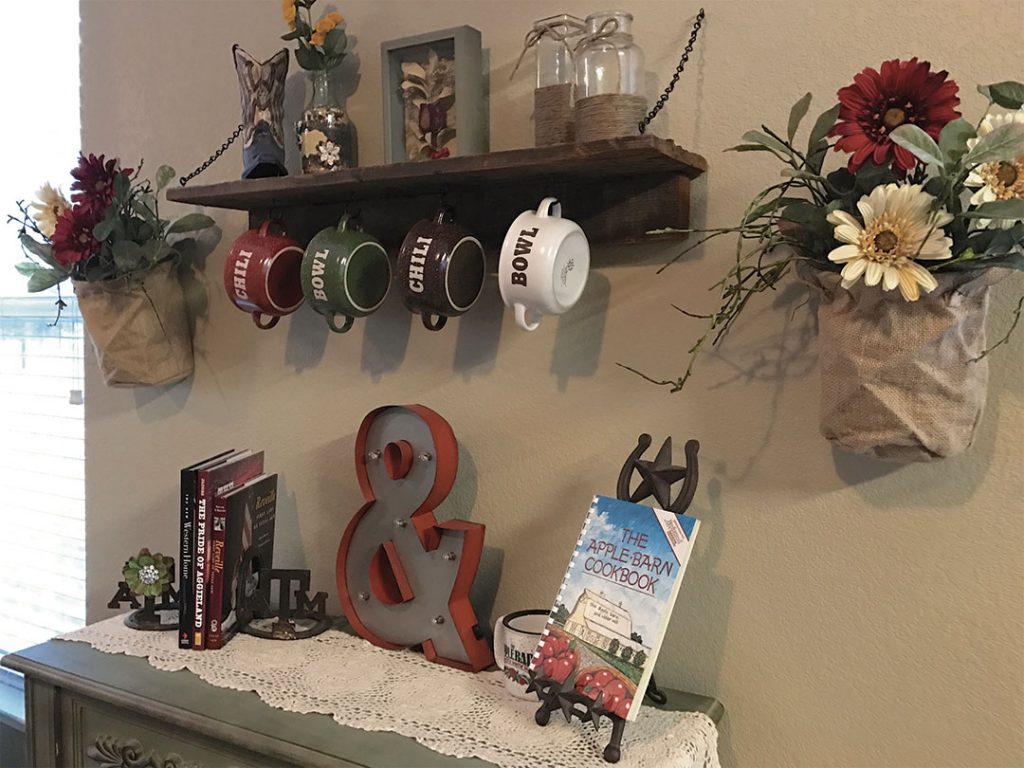 HOW TO DECORATE ON A BUDGET:
After you have your required storage, all you need is to decorate! Choose some decorative conversation items if the arrangement is in one of your common rooms where guests will be.
I loved this setup for the dining room area because it showcased some conversation starters – such as college stories, vacation memories, and the first rose my husband gave me – all while storing additional serving ware.
A great option we use for budget-friendly decor is simply mix and match items we already own along with some DIY projects. Some decor items I recommend are decorative books, cookbooks, souvenirs, coffee mugs, floral arrangements, DIY projects, family photos, etc.
The wood shelf and the preserved flower were my own DIY projects for this space.
I recommend appropriately balancing your pieces with one another in addition to both the size of the room and wall. The shelf adds a nice upper balance to the weight of the cabinet below, while the overall scale works nicely for the wall size.
When it came to the floral arrangements, these were originally for the townhouse I shared with my brother during college. My brother did not want any decor that was "too girly," but I had already found these adorable burlap bags and had to get my floral arrangements in them somehow.
So I decided to use flowers that were not too feminine in both color and appearance with greenery. The key element here was I chose to use a more masculine twig-like greenery and moss to seal the deal.
I explained to him my balance between masculinity and femininity in the arrangement… I am not sure if he actually bought my reasoning, but he caved either way!
Through this rustic, farmhouse inspired arrangement we not only added lots of storage to the space, but also added an abundance of color to the standard barren rooms of rental properties.
If you have a lack of storage space or a tight budget, try not to look at it as a bad thing. Instead, look at it as an opportunity to get creative! You could end up inspiring your friends and help them solve their own decor or storage challenges.
---
Related posts:
DIY Dried Floral Shadow Box
Thanks for stopping by!