Need a beautiful handmade gift for a baby shower? We are in the season of life where us and friends are adding precious additions to our families, which means lots of baby related patterns and products! Our newest and current collection – baby burp cloths!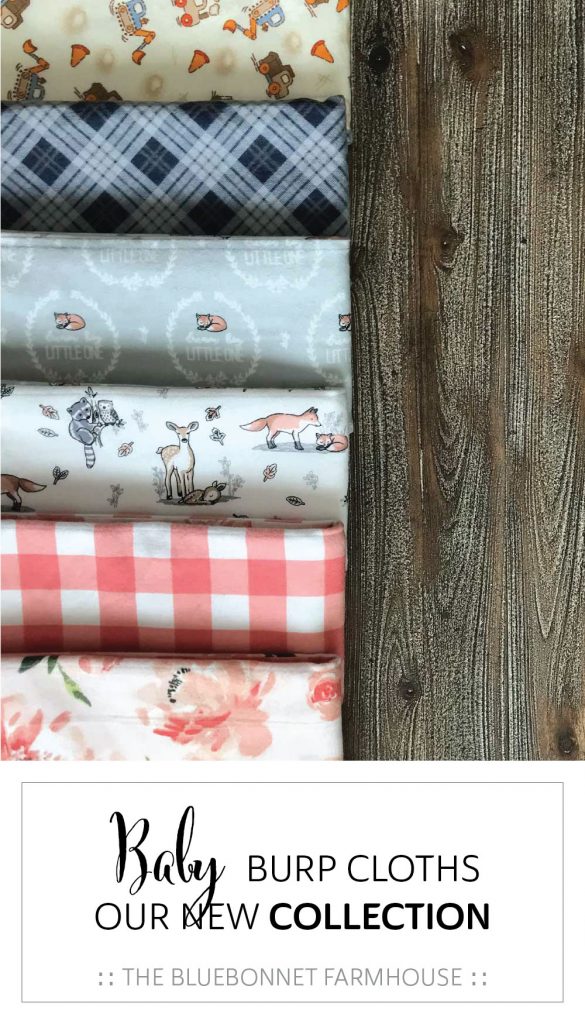 In an attempt to free up some space in my craft closet, I am now offering handmade items for sale! The best part is with every purchase you are helping to unite military families and aid our wounded warriors! You can learn more about our mission to give back here.
Due to the nature of how this adventure began, I may not have enough fabric to make multiple sets so quantities are very limited. I must say it has been a very fun and great way to start reducing my massive stockpile of fabric! More new styles are coming very soon!
---
A little about our burp cloths…
Designed to quickly and easily fold to double up for even the messiest of spitter-uppers!

Or leave unfolded for extra coverage around your shoulder and neck.

Large enough to use as a changing mat if you left yours at home – which will inevitably happen!
Compact enough to easily fit into any mom's overflowing diaper bag!
Use for infant feeding and burping, drool/spit up mat during tummy time, cleaning up messes, impromptu changing mat, mini blanket for added warmth, etc.
Made of 100% cotton and will get more absorbent with each wash.
Attention to detail in the construction and craftsmanship of this product.

I never sell anything I would not want for myself or as a gift for someone else.

A portion of all profits will be donated to the Wounded Warrior Project and United Through Reading!
NOTE: As with any baby product or accessory, never leave a baby unattended with a burp cloth and always use adult supervision. Not intended as a blanket for sleep or sleep use of any kind.
---
Our newest products…
Prefold cloth diapers were used as inserts in the burp clothes below. Prefold cloth diapers are an excellent and easy way to add absorbency to the burp cloths and influenced the three section design. In addition, these burp cloths are made of 100% cotton top layer and soft flannel bottom layer. Check them out below!
NAVY + WHITE NAUTICAL
Being true to our name, we are launching our burp cloth collection with these sweet Navy inspired burp cloths!
PINK + WHITE WOODLAND
Pink and white, teepees and antlers! These precious burp cloths are perfect for the adventurous baby girl!
---
---
Thanks for following along! Have a great day!