ONE ROOM CHALLENGE : WEEK ONE
Welcome to our very first room for the One Room Challenge. Learn about our inspiration and design plan to transform our son's nursery into an antique train boys bedroom.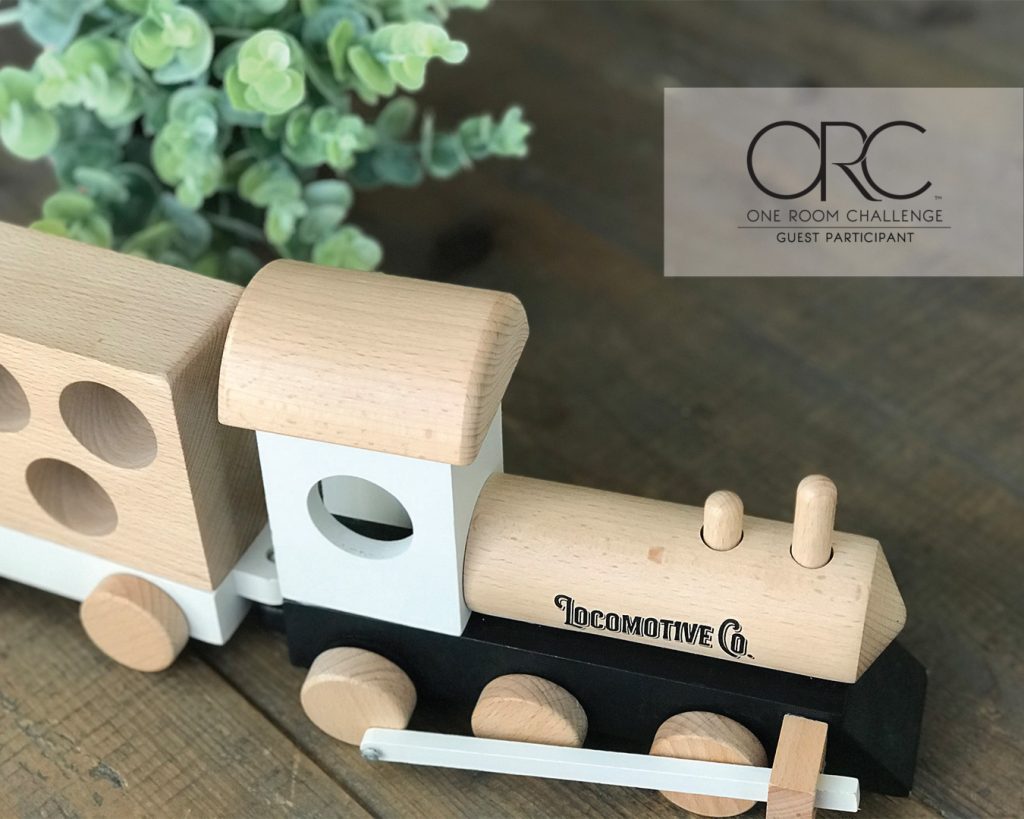 ---
This post contains affiliate links used to help support The Bluebonnet Farmhouse. For more information, please see my disclosures here.
---
Howdy and welcome! If you have been following along with our woodland nursery series, then you already know that the plans for our son's big boy room have been in the works for the last couple of months.
The plans that is, we haven't actually started any physical work on it yet besides shopping. I am ashamed to admit this, but we have lived in our home for almost two years now and our son's room remains unfinished.
The two biggest reasons for this are:
I had zero inspiration on how to design the room in such a way that I knew he would love it,
and I wanted antique furniture for his room. Anyone who loves antiques knows antique shopping takes time and you never know when you will find that perfect piece.
Ironically for me, that perfect piece (or pieces) somehow all came at the same time. For months I had been trying to find the bed and all of the sudden, I found both the bed and trunk in the same night!
I have my work cut out for me though, each antique for his room is in need of some TLC. But, I am ecstatic to jump in and get to work on them!
---
INSPIRATION
Let's start with the inspiration for how our design came about.
A couple of months ago, I was wracking my brain over what to do for our son's room when it dawned on me – he loves trains, specifically steam locomotives.
This idea was pulling at my heart strings because it was the perfect way to create a bedroom he will love into the farmhouse aesthetics I love.
On to Pinterest I went for some inspiration on my newfound room theme.
This was the photo that hit me like a freight train… accidental pun intended.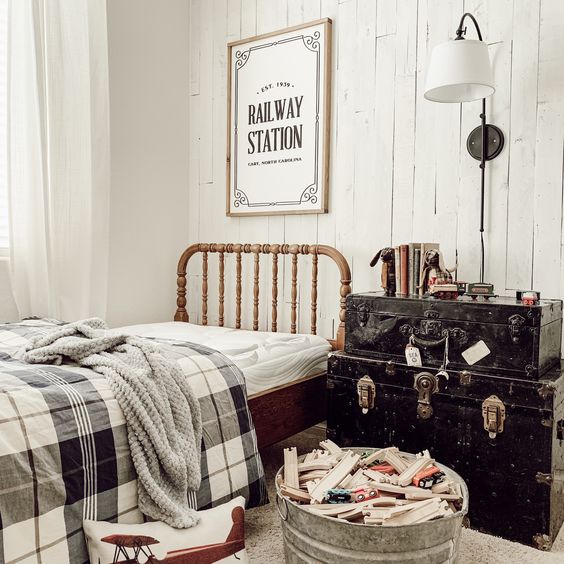 Yes, yes, yes! The second I laid my eyes on this photo, I knew I had finally found the design inspiration for our son's room.
The Jenny Lind bed, the shiplap, the steamer trunks, the trains, the plane, the railway sign… everything about this photo stole my heart.
Unfortunately, I could only find this one photo on Pinterest and there was not a link to any website. All I know is it was pinned by a mattress company called Zinus, which I do not know anything about.
Nonetheless, I continued to search and came across this inspiration photo as well!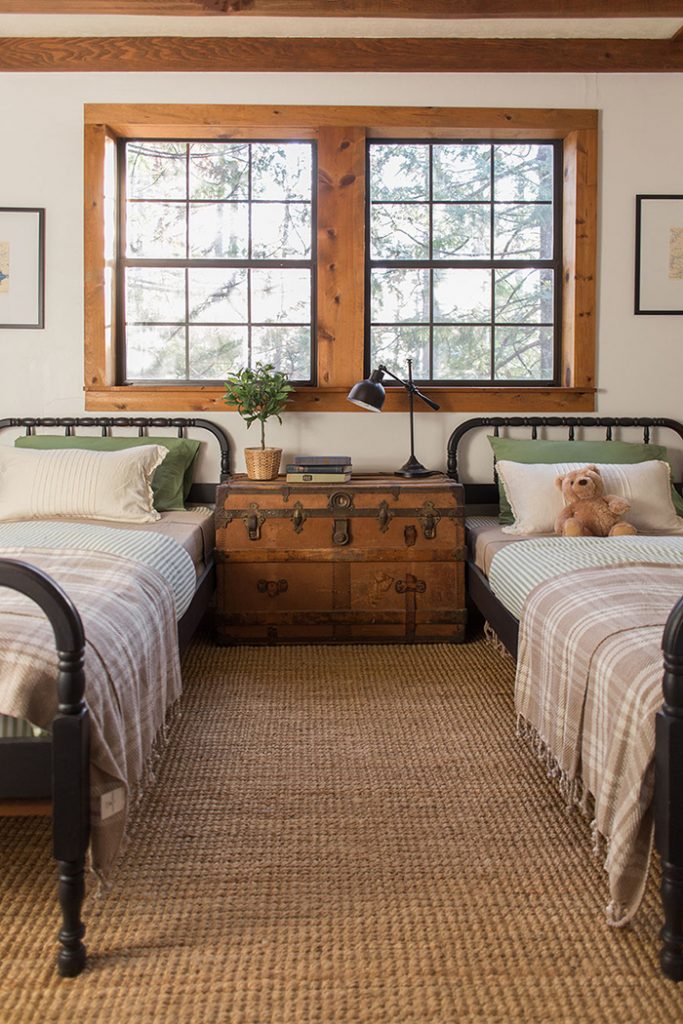 This precious bedroom is part of a cottage house flip done by Jenna Sue Design Co.
Notice a common denominator here. That of which is me being drawn to Jenny Lind beds and steamer trunks! Therefore, I had to make sure both found their way into the room.
Seriously though, how sweet is this room?! There is a beautiful balance between a child's room with the low beds and teddy bear, and that of a more mature timeless look with the neutrals and a pop of color.
---
DESIGN PLAN
As you can see, we have decided to go with an antique train design theme for our son's room! We have not told him about our plans to renovate his room and cannot wait to surprise him in the next several weeks!
Now that you have an idea of where we are going with this, here are the tasks we are undertaking to make this room happen!
DIY Projects:
Shiplap Feature Wall
Custom Railway Sign
Custom Wall Decor
Box Beams (undecided still on whether or not we will be doing this one – thoughts?)
Furniture Restoration:
Jenny Lind Bed
Steamer Trunk
Gentleman's Dresser
---
FURNITURE
Remember how I said I had my work cut out for me and that each antique needed some TLC? Keep that in mind when you look at the photos.
JENNY LIND BED
Thanks to the advice from Lyndsey at The Highland Home, I found this gorgeous antique Jenny Lind bed on Facebook Marketplace for only $75!!
Ok I say gorgeous even though the bed has an uneven finish after having been stripped, but can you not just see the potential?!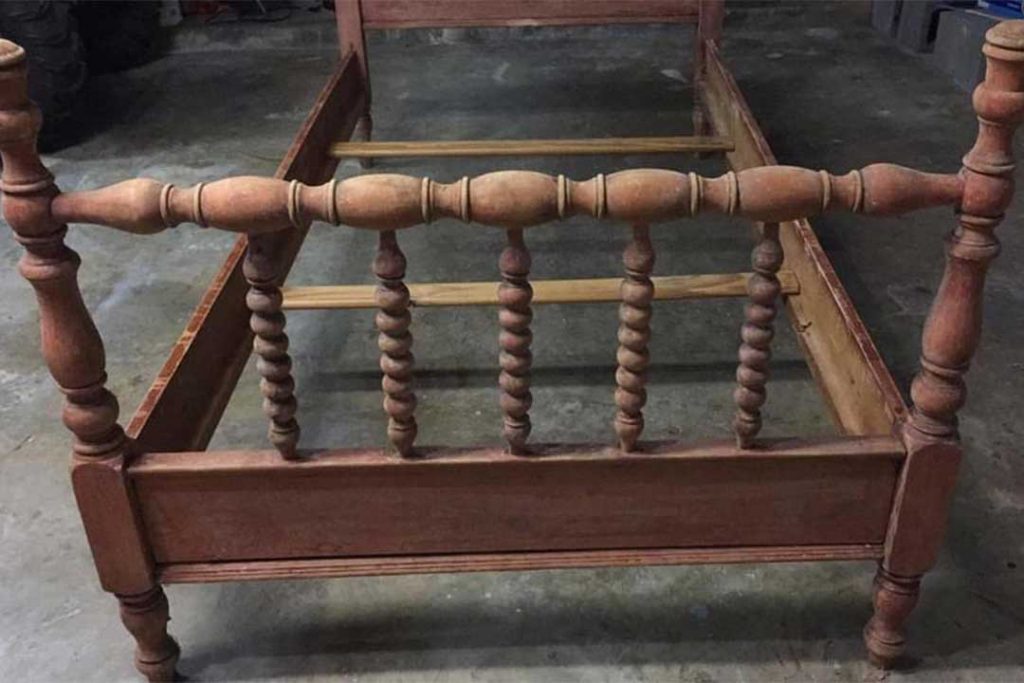 STEAMER TRUNK
As for the trunk, it too was found through Facebook Marketplace. The original trunk I found ended up not being what we had hoped after having taken a look at it in person. But, we ended up finding the right trunk for us later that same day, in much better shape and price! The trunk ended up costing us $80.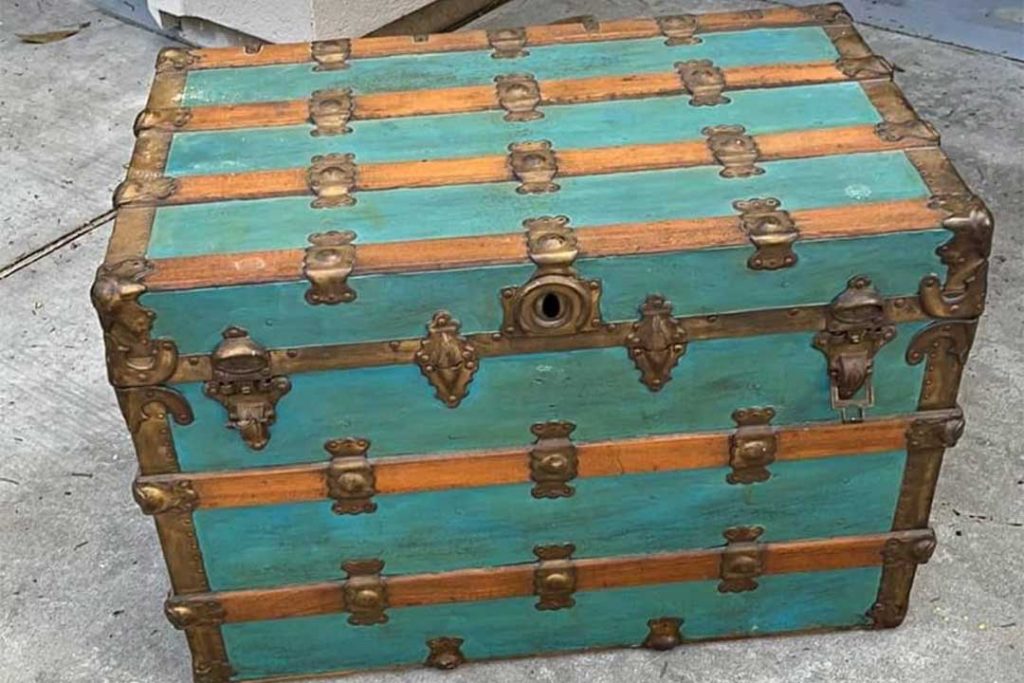 GENTLEMAN'S DRESSER
Only a couple of days later, after finding both the bed and trunk, I found the dresser! Since I had been having such great success with Facebook Marketplace thus far, I had originally been scouring the platform for an antique dresser. When luck ran out on there, I hopped onto the our local resale shop's website and found the dresser!
Y'all we found a Victorian Gentleman's Dresser for our little gentleman! It comes equipped with a hat box and all. I was in love and sold.
I admit, this was our splurge piece for the room coming in at $600. But, it was the perfect size for a little boys room and our son sure liked it too!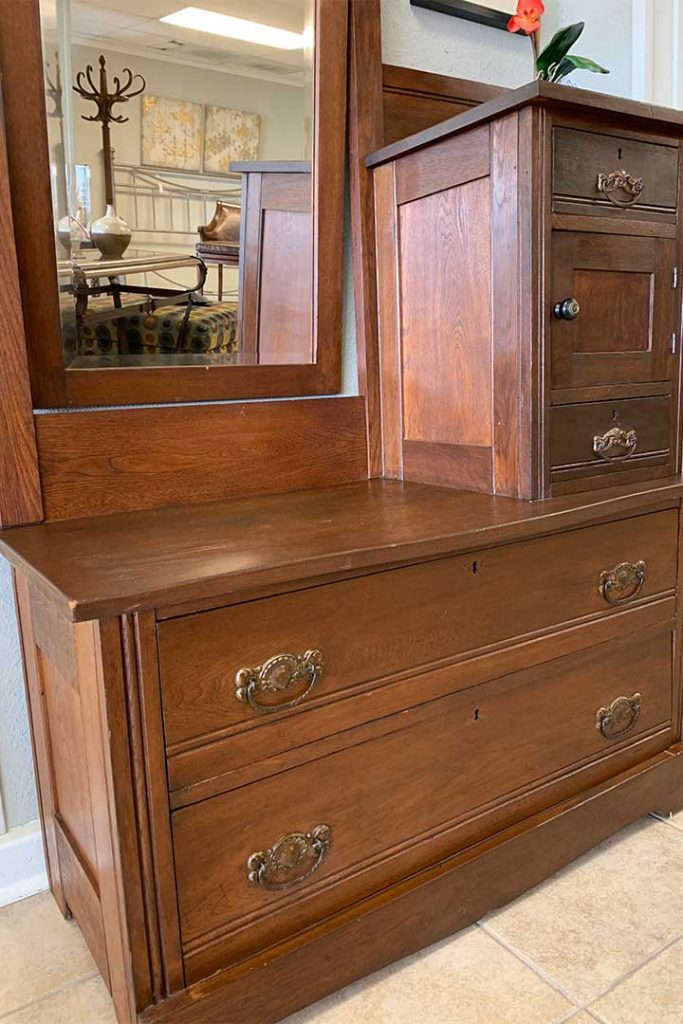 ---
This 8 week challenge begins today and I already feel behind, but that's the life of a toddler mom. Oh and to add a little more stress, we have a fast approaching vacation smack dab in the middle of this challenge… I probably should have given this more thought before registering.
One room
Three furniture restorations
Too many DIYs
Challenge accepted. Let's do this.
We would love for you to follow along as we (hopefully) complete this room transformation over the next 8 weeks!
Visit the One Room Challenge Blog page to check out the other participants design plans and find more inspiration!
Thanks for following along!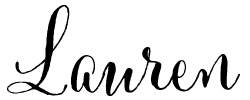 Follow along with our One Room Challenge on our social media pages!